MASSIVE End of Year SALE! 20% - 80% off 1000+ Amazing Aboriginal Artworks! (Page 14)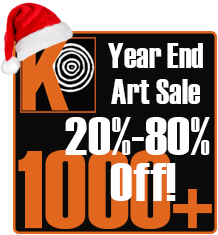 It's true what they say; an artwork is the gift that keeps on giving! This festive season, Kate Owen Gallery has made it easy for everyone to spoil their loved ones with our annual end of year sale: 20% - 80% off 1,000+ quality artworks. Many are works by well-known and collectible Indigenous artists – others are simply great artworks at a great price.
If you are interested in any of the art we have on sale, please indicate your interest quickly by telephone or email to ensure you don't miss out. All paintings come with certificates of authenticity. Where available, photographs of the artist creating the work and of the artist with the completed work will also be provided. The gallery also offers a lay-by system, as well as an interest free repayment option through Art Money which allows you to take your artwork home right away.
Discounted Artworks Found: 1112 - Page: 14 of 62

Discounted Artworks Found: 1112 - Page: 14 of 62